Free Delivery!
Oh Fudge Marla delivers free to:
Costa Mesa, Irvine, Huntington Beach, and Newport Beach.
Use the coupon code
ohfudgemarla
when checking out.
($25 Minimum Order)
Having Trouble Deciding Which Fudge Flavors You Want to Try?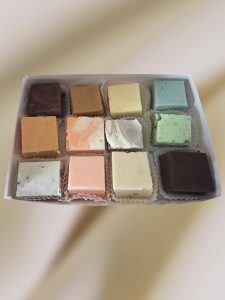 THIS IS THE PLACE TO START!
Order a 1 lb. "Variety Box" and Receive an Additional 1/2 lb. FREE!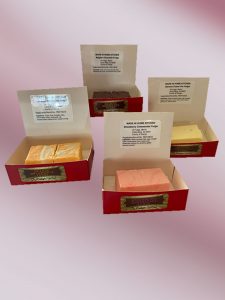 MIX AND MATCH!
Four 1/4 lb. Boxes Minimum on This Order!
Shop Now!
Delightful, Delectable and Downright Delicious!
Choose any of the fudge flavors below to learn more and get started ordering.
Personalized Party Favor Fudge Boxes
Make Your Special Event Extra Special with Oh Fudge Marla!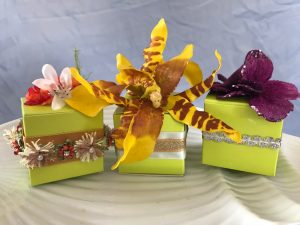 Ideal for Weddings, Baby Showers, Graduations, Retirement Parties, Bar & Bat Mitzvahs, Quinceañeras, and Birthdays!
These gorgeous fudge boxes are the perfect gift to thank your guests for their love and support on your special occasion. All fudge boxes are created by me, Chef Marla.
Learn More

"We are extremely happy with both the taste and quality of this amazing fudge. It is the real deal. You can taste love in each bite."
Jn J.

"
Marla was very gracious.

"
"We just had a gala and featured a beautiful display provided by Oh Fudge Marla. It was a great hit!"
Paul M.

"Marla's fudge is really the best fudge I've ever had. The flavors are spot on and don't seem to be overly sweet like tourist fudge."
Brian C.

"God bless Marla's fudge!!"
"Y U M M Y!  Takes me back to my favorite childhood memories! Everyone loves it! Keep up the sweet work Marla."
Lisa P.
Perfect for the
Chocolate
Connoisseur
Delicious Flavors
You Won't Find
Anywhere Else
Guaranteed
Fresh
Delivery
Treat Yourself to
All That is
Delicious
Treat Your
Friends and Clients,
Too